Cast off the old and embrace the new: innovative mid-sized companies such as MMM Münchener Medizin Mechanik GmbH, based in the Bavarian town of Stadlern, see change as an opportunity rather than something to be afraid of. It is this mindset that impressed the judges in the TOP 100 competition, now in its 27th year, and from 19 June, MMM will officially be able to call itself a TOP 100 company. During the rigorous selection process, the level C company (more than 200 employees) scored particularly highly in the Open Innovation category. This is the fourth time that MMM has been recognised as one of Germany's most innovative SMEs.

MMM Münchener Medizin Mechanik – a provider of both goods and services with around 1,200 employees – was established 65 years ago and is now a globally recognised expert in sterile goods processing. The company is a three-time winner of the TOP 100 accolade and its portfolio includes the cleaning, disinfection and sterilisation of surgical instruments, and of complex robotic instruments in hospitals, laboratories and the pharmaceutical industry. Another key area of its work is the management of projects covering all aspects of its customers' sterile goods processing departments.
MMM's innovation activities are strongly outwardly looking, which is to say that the company collaborates with external partners. "Working in close partnership with our customers is a very important part of what we do," explains management board member Robert Eibl. "The management team holds regular innovation seminars with customers, and this gives us practical input for our research and development." In addition to its customer-focused project work, MMM is also the strategic and sales hub of the MMM group of companies and consequently responsible for innovation management. Specially appointed coordinators from the workforce oversee the innovation projects. As the only audited training establishment of the German Society for Sterile Supply (Deutsche Gesellschaft für Sterilgutversorgung), this innovative SME also provides training courses for customers' staff working in sterilisation departments.
The TOP 100 competition
Since 1993, compamedia has been awarding the TOP 100 seal of approval to SMEs with a particular ability to innovate and above-average success rates for innovations. Professor Nikolaus Franke has coordinated the project since 2002, and is the founder and director of the Institute for Entrepreneurship and Innovation at the Vienna University of Economics and Business. The TOP 100 is mentored by science journalist Ranga Yogeshwar and organised in partnership with the Fraunhofer Society for the Promotion of Applied Research and the German Association for Small and Medium-Sized Businesses (BVMW). Media support for the company benchmarking competition is provided by manager magazin, impulse, and W&V. Further information is available at www.top100-germany.com.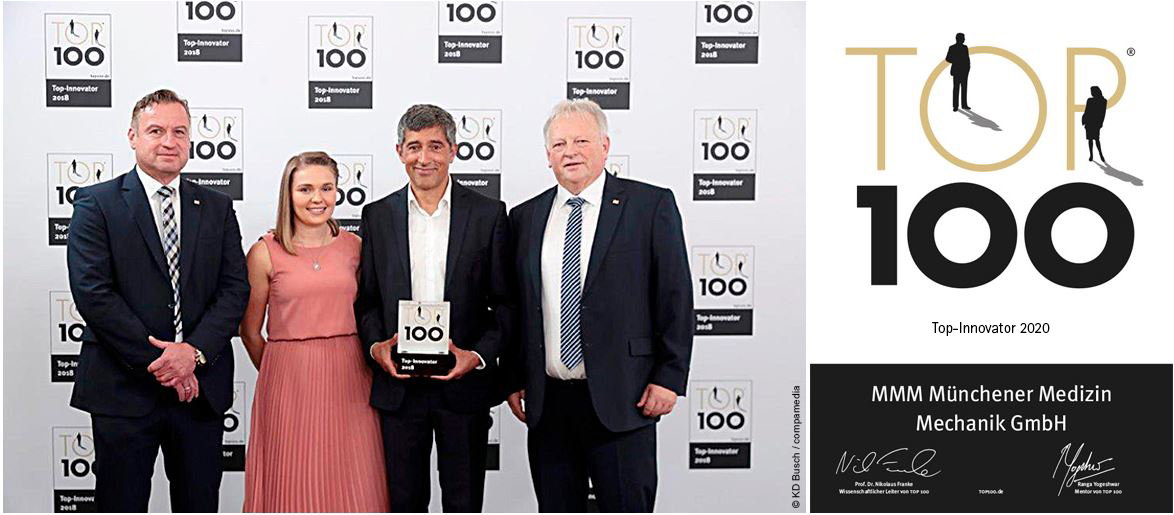 10. 03. 2021